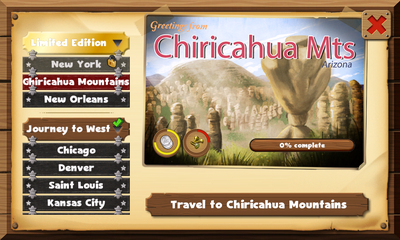 SOJURN SUMMARY:
Edit
DEPENDS ON:
Trailsweeper
REQUIRED FOR:
None
Release Date: January 22, 2015
Number of Pickaxes: 0
Minimum Amount of Time to Uncover Items in the Canyon: 00:00:00
Quest Structures Uncovered and Built:
None
Catalogue Items Purchased, Built, or Planted:
Depends on random route
Structures and Collectables Needed:
Depends on random route
What the Colors Mean:

| | | | | |
| --- | --- | --- | --- | --- |
| Quest Dialog | | Quest Instructions | | Quest Completion Dialog and Reward |
Sergio:
Ah, I've received post from apple from.. the Chiricahua Mountains of Arizona!

I do remember traveling past them on my journey to your town. Perhaps I will visit and rest my boots awhile.
☐
Assist Sergio on the trail to the Chiricahua Mountains!

Select the Chiricahua Mountains Expedition from Sergio's Wagon.
| | |
| --- | --- |
| Sergio: | Mamma mia, those rocks are much more imposing in person! I am mightily relieved Apple passed through without trouble. |
QUEST COMPLETE!
"If it started raining, Sergio would have had to runoff!"
REWARD

: 100

: 25
---
Return to Limited Edition Series
Ad blocker interference detected!
Wikia is a free-to-use site that makes money from advertising. We have a modified experience for viewers using ad blockers

Wikia is not accessible if you've made further modifications. Remove the custom ad blocker rule(s) and the page will load as expected.