Just saying this here so as not to make a big deal out of it. I'm not playing WB until the other Temples are released. When the next one shows up, please let me know. My Message Wall is also the best way to get a hold of me if anyone has any questions about anything game or Wiki related. Thanks to everybody who has Contributed! None of this would be possible without all of you! For the record, I'll still be involved in the Wiki when something goes wrong or a major decision is needed. Raeyin is doing a helluva job with the day to day. I wouldn't feel comfortable leaving things in her hands if she wasn't doing such a good job. She's practically Co-Founder anyway, so it was just a matter of time. I just have too much going on health-wise to do anything effectively on here, right now.
Polls on pages. Good idea?
Thanks to all those who voted!
Sweet. These Polls only allow each person to vote once. That's a nice feature. Wikia has a lot of great features built in to its pages.
Let me know on my Message Wall who all is voting. Looks like that's the only thing Wikia doesn't do is let you know who is actually doing the voting. Thanks!

I'll be sharing misc info on this page.  Might even be using parts of it as a sandbox.  May share some of my Strategies on here as well.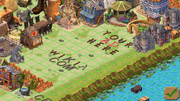 Test
Headline text
Edit
WHY IS IT THE CONTENTS BOX ISN'T SHOWING UP EVEN THOUGH I'M USING HEADER 2 FORMATS FOR THE DIFFERENT SECTIONS.
THE SAME THING IS HAPPENING ON THE QUESTS PAGE.  COULD BE OTHER PAGES AS WELL.
THE CONTENTS BOX IS HANDY AND MAKES #HEADINGS AVAILABLE IN LINKS ON OTHER PAGES.
AND I'M NOT TALKING ABOUT #TWITTER LINGO.
Headline text
Edit
FIGURED IT OUT.  THE TABLE OF CONTENTS (TOC) BOX ONLY APPEARS AUTOMATICALLY IF YOU HAVE 3 OR MORE HEADINGS.  IT REQUIRES SPECIAL CODE TO FORCE IT TO APPEAR.  YOU CAN ALSO USE SPECIAL CODE TO PLACE THE TOC WHERE YOU WOULD LIKE IT TO APPEAR ON ANY PAGE.  USEFUL INFO.
Test
Test
Ad blocker interference detected!
Wikia is a free-to-use site that makes money from advertising. We have a modified experience for viewers using ad blockers

Wikia is not accessible if you've made further modifications. Remove the custom ad blocker rule(s) and the page will load as expected.